Bruce's Welding, Inc. - Our History

Bruce Barnes, owner of Bruce's Welding, Inc., Girard, has been expanding his business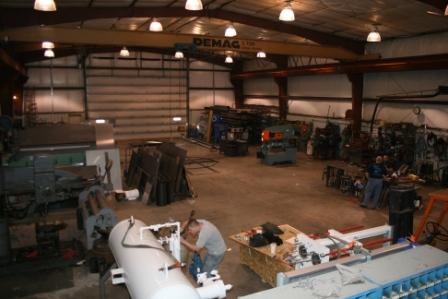 and customers for the past 25 years. Barnes is a certified pipe welder who continually is learning to keep current with his State of Illinois requirements. Barnes graduated from Virden High School in 1984 and immediately opened his business in his parent's garage for the first two years.

He then moved to a facility on S. Route 4 in Girard.

His customers include area farmers and businesses.

In addition Bruce has rented space to DSI, Inc., (Dairy Services, Inc.).

Bruce's Welding does a lot of the manufacturing of the equipment which DSI sells nationwide. The equipment includes cooling units which are sold to Coke, Pepsi, and Dr. Pepper manufacturing plants.

Bruce's Welding, Inc., has a host of heavy duty equipment including a leaf brake, built in the 1930's, which can bend steel up to ¼" thick and 12' long along with newer benders with digital readout. In addition, Bruce has a variety of drills, saws, and a 200 ton press which are all used in constructing and erecting and manufacturing a variety of intricate equipment.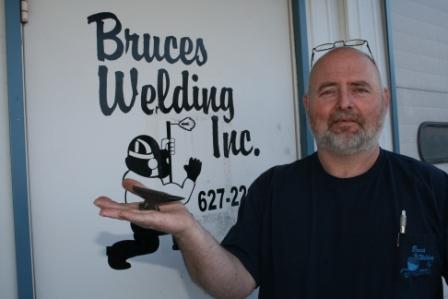 To celebrate his 25th anniversary, Bruce had Kettler Casting Co. located in Belleville, Illinois, manufacture cast iron anvil paperweights with "Bruce's Welding" on one side and "Girard, Illinois" on the other. Voss Pattern Works made the pattern for the mold.

Bruce made anvils out of molten lead to celebrate his 15th anniversary in 1999. He poured 350 of these molten lead anvils which he gave away ten years ago. The cast iron paperweights are a unique keepsake which will help promote his welding business to his customers.

Bruce said he has been fortunate to be versatile in his business. "I have many customers from a variety of backgrounds giving me a great base for my business even in the current recession," Bruce explained. Bruce is looking forward to his next 25 years in business.